Courthouse History
Gwinnett County Justice & Administration Center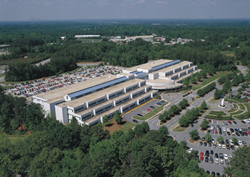 Photograph provided by Jackie White,
Juvenile Court Administrator

The facility was constructed on a 61 acre site. The total construction cost for the facility was 72 million dollars raised by an optional penny sales tax. The east wing of the facility uses one-half of the 508,000 gross square footage of the facility and provides office space for all the county's court and prosecutorial offices, as well as the law library.
...A common lobby connects 27 courtrooms, support areas, and all county departments...
This four-level, people-oriented justice and administrative center preserves the identity and independence of the courts while consolidating all county government needs into one facility. A common lobby connects 27 courtrooms, support areas, and all county departments. A central atrium facilitates public orientation, circulation, waiting, and surveillance. The design features judicial parking and separate circulation patterns for the judicial staff, civilians, and inmates.
The center uses fire-resistant construction with fire detection and automatic sprinklers throughout. In addition to required corridors and exit stairs, automatic smoke purge systems are provided in the main public circulation atrium, a safety-security center, and a monitoring system.
Architects: Richardson, Inc. (Dallas, Texas) and Architects Plus (Norcross, Georgia); Landscaping: Hayes, James & Assoc.; Courts consultant: Walter H. Soebel & Associates; Programmer Consultant: Heery Program Management, Inc.
Gwinnett and the Internet


Click image for large view

Gwinnett County's first judicial website was established September, 1995 making it one of the first court websites in Georgia.


Click image for large view

Gwinnett Courts upgraded its website in November 2005 to a fully database-driven web application. Since then all superior, state, and magistrate court cases became available for search online.


Click image for large view

Gwinnett County Clerk of Courts' new website was chosen as one of the Top 10 Court Websites Award Winner in July 2015. This honor was given by the National Association for Court Management.
Old Gwinnett County Courthouse
| | |
| --- | --- |
| | Photograph provided by Fred W. Rys, Sr. |
Created in 1818 from Cherokee and Creek cessions, Gwinnett is an original county. Courts, elections, and sheriff sales were held first in the home of Elisha Winn, 1 mile east of the Appalachee River. Selected to buy a permanent site for the county town, Winn purchased Lot 146, consisting of 250 acres in the Fifth Land District, for $200 from John Breedlove of Hancock County who had drawn it in the lottery.

In 1849, the four corner lots on the public square were deeded to Charles H. Smith(Bill Arp), N.L. Hutchins, James P. Simmons, and T.W. Alexander, lawyers, so long as they maintained a substantial fence around the square to keep out wandering livestock. The first fence under this agreement was eight feet high with a stile on each side.
Winn House

Photograph provided by the Honorable
Fred A. Bishop, Jr.
The home of Elisha Winn in Hog Mountain was selected as the first center of government of the new county and the first elections were held there. The first jail was located adjacent to his huge barn that doubled as the first courtroom. In 1820, a temporary log courthouse was built by Isham Williams on Land Lot 143 in Lawrenceville at a cost of $56. The seat of government was moved again when a second temporary log courthouse was built there to serve until the first permanent courthouse was completed in 1824. This building, costing $4,000, burned, along with many records in 1871. A second permanent courthouse was built on the square in 1872 but it proved to be so thoroughly inadequate that is was torn down in 1884 and replaced in 1885 with another courthouse. No known photograph exists of any of these buildings except the Winn House and the 1885 courthouse.